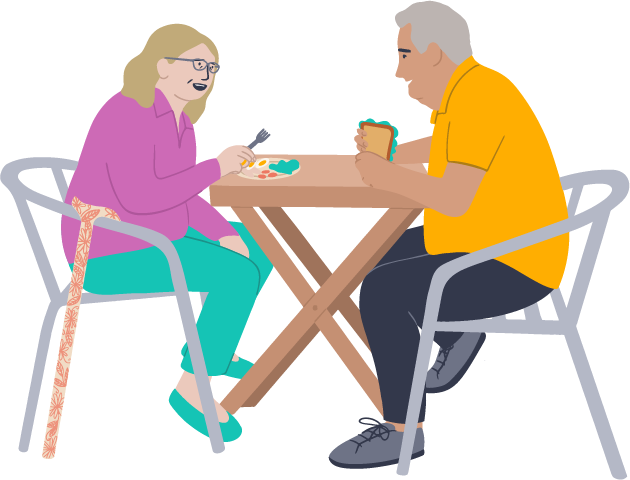 WE HAVE A FANTASTIC TEAM OF OVER
120 VOLUNTEERS
VOLUNTEERING OPPORTUNITIES
We have a wide variety of opportunities and always welcome enquiries from people interested in joining our teams. If you are interested in volunteering with us you can contact one of our services directly or call our Central office on 01273 322940 or email recruit@impact-initiatives.org.uk We have listed specific volunteer roles we are currently looking to fill below.
AGEING WELL FESTIVAL VOLUNTEER (BRIGHTON AND HOVE)
Part-time:
2-4 hours a week, to be carried out flexibly
Accountable to:
Ageing Well Festival Team
Supervised by:
Ageing Well Festival Team
Ageing Well Festival
In 2013 Impact Initiatives celebrated the contributions older people make to our city, coinciding with the United Nations International Day of Older Persons. Each year since, the festival has grown and developed. The Ageing Well Festival is now an annual two-week programme of events to celebrate older people in Brighton and Hove. Each year we offer an eclectic range of events so that there is something to suit everyone's interests. People have opportunities to meet like-minded others, make new connections, and most importantly, have fun. An ever-increasing number of organisations, businesses and individuals take part each year. This year, with COVID-19 restrictions now minimal, we plan to hold our biggest Ageing Well Festival yet. The festival is part of the broader Ageing Well service.
The Role
In this rewarding role, you will be pivotal to the success of delivering the festival. You will have opportunities to gain skills in event management within the charity sector, including liaising with event organisers, planning logistics for the lead up to and during the festival, taking bookings and responding to queries from people about events, and joining in on some of the fun.
Main Tasks
Answer incoming phone calls and emails from festival attendees and event organisers regarding general Ageing Well Festival enquiries, on a rota basis.
Assist festival attendees with booking events on the telephone as well as email and post booking requests.
To complete general training with the Ageing Well Festival team on use of the festival booking platform and general festival booking processes.
To send attendee lists to event organisers and communicate any changes to events to festival attendees as required.
Keep up to date information regarding festival events available for older people to ensure full and accurate information can be given to enquirers.
Assist with the distribution of Ageing Well Festival programmes in Brighton and Hove citywide. Working with the Ageing Well Festival team to organise minibus distribution days.
To accompany the Ageing Well Festival minibus driver to deliver festival programmes to agreed distribution centres in Brighton and Hove.
Help with the distribution of Ageing Well Festival banners, flags and tie-on signs to local event venues and frequently visited locations in Brighton and Hove as advised by the Ageing Well Festival.
To follow the volunteer guidelines and report to the Ageing Well Festival.
To maintain service user confidentiality, as detailed in the in the guidelines.
To work within the Project and Organisational policies and procedures.
To undertake any other duties, as appropriate to the character of this work and as requested by Ageing Well Festival Team, as reasonably required.
Ageing Well Festival Volunteer will be ….
Able to provide information over the telephone in a clear and concise manner
Able to offer person centred support, which is tailored to a service user's individual
Able to work with the guidance of the Ageing Well
Willing to provide a flexible approach
Committed to working in line with equality, diversity, and equal opportunities
Further Information
Impact Initiatives provide services across Sussex which support health and wellbeing. We help people in Sussex to lead healthy and fulfilling lives. We strive to make tomorrow a better day.
The Ageing Well Service is commissioned by Brighton and Hove City Council and Brighton and Hove Clinical Commissioning Group. Impact Initiatives leads a partnership of ten local organisations. We offer a programme of services, activities and events across the city for anybody who is aged 50+. Our Single Point of Contact service makes sure services and activities are easy to access, with our friendly advisors providing information about what is available and connecting people to relevant activities.
Ageing Well aims to reduce loneliness and social isolation and provide opportunities for older people in Brighton and Hove to maintain and improve their health and wellbeing. We want Brighton and Hove to be the go-to-place for excellence in preventative services for older people.
If you would like to discuss this role further, please call 01273 322947. To apply for the role please fill in Impact Initiatives volunteer form explaining why you're interested in this role, and submit via email to ageingwellbh@impact-initiatives.org.uk (available for download via the link below).
VOLUNTEER ADVOCATE
Service:
Impact Advocacy
Hours Per Week:
Approximately 3 hours a week (however, this is flexible).
Accountable to:
Volunteer Coordinator
Line Managed by:
Team Leader
Benefits of volunteering
You will become part of a friendly team.
You will get lots of support in your role, including regular supervision and monthly peer support meetings.
Full training will be provided along with shadowing opportunities.
All expenses paid.
Main Activities:
We always want to ensure that volunteers are happy and enjoying their activities. Volunteers can choose from the following two options or do a mixture of the two:
Support our weekly advocacy drop-in sessions, which involve welcoming the advocacy partner into the building, explaining what our service can offer and noting down what they require support with. This information can then be passed on to an advocate who can offer more advocacy sessions in follow up.
Support an advocacy partner directly, working with them 1-2-1 until their issue is resolved, which can be anything from 2 to 6 sessions with someone. An advocate will always be available to help and this will be once you're comfortable to take on your own cases.
The role of a volunteer advocate involves:
Working with people with various disabilities and health conditions to make sure that their voice is heard. This may involve helping them to access information and services, supporting people to make decisions, or speaking on their behalf to professionals, family members or others.
Keeping some simple notes of your meetings in accordance with the Impact Advocacy guidelines.Updating your Team Leader on a regular/monthly basis. If possible, to attend regular supervision sessions, team meetings and training events – not compulsory.
Working within the Project and Organisational policies and procedures.
We ask advocates to:
Be non-judgmental.
Have good listening skills.
Understand the need to respect confidentiality.
Be able to cope with stressful situations.
Have the time to volunteer on a regular basis, approximately 3 hours a week.
Have time, and be willing, to attend training and supervision sessions as required.
Be committed to equal opportunities.
Be willing to develop knowledge and skills
A quote from one of our current volunteers:
"I feel that advocacy provides a great opportunity to become involved in the local community. Indeed, it is a privilege to feel that by meeting people and understanding their needs, it's possible to make such a big difference to their lives."
We value our volunteers highly and strive to ensure that each person:
Has a clear role description
Has the support they need to carry out their role
Is given the training needed for the role
Has all out-of-pocket expenses, e.g.. travel expenses reimbursed
We understand that people volunteer for many different reasons, including:
To gain new skills, knowledge and experience
To make a difference to the lives of others
To feel valued and part of a team
To spend quality time away from work or a busy lifestyle
To gain confidence and self-esteem.
To enhance a CV and improve employment prospects
To use professional skills and knowledge to benefit others (usually described as pro bono).
No matter what your age or skills, if you're keen to make things better for people in Sussex, we'd love to have you as part of our team.
Our volunteers contribute from 2 to 20 hours a week our youngest is currently 16 and the oldest is 88.
Examples of what our volunteers do range from running interest groups or gardening in our supported housing to helping children with art or reading, serving meals in our cafes and helping older people to and from our Centres.
You'll get full training for your role and we'll provide you with on-going support. You'll also have the support of members of our team of permanent staff. And you'll get all out-of-pocket expenses reimbursed.
For further information please contact the service you are particularly interested in directly.